"Welcome in the gallery of my fine art"

Discover abstract art in Oil Paintings and Sculptures!
You arrived in a world where abstract art, for as long as I can remember, dominates every day in my life. In the seventies I became an abstract painter and sculpture artist by profession and I am convinced that everybody is born with a powerful gift.
A personal gift for experiencing your world in dimensions full of unexplainable color combinations, expressive forms, sounds and with the urge to share this with as many people as you can.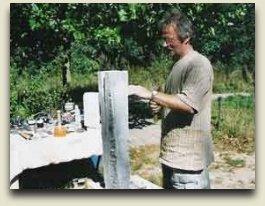 The world as we know it consists of great artists who dedicate their whole lives to fine art letting you enjoy their personal visions and expressions.
You experience our art every hour of the day. The music you hear on the radio, the abstract art in office buildings even the design of your car.
I always believed that fine art is created for a varied audience. People from all over the world looking for a way to find something familiar about themselves in my oil paintings and sculptures.
Experience yourself why my work presented in the online art gallery attracts you. Feel free and enjoy the paintings and sculptures which take you to my dimension!
Kind Regards

"Are you also interested in fine art and likes telling others about my website? Then insert the following code into your website or blog! Thanks!"
<a href="http://www.wimlemmensart.com/" title="Wim Lemmens fine art Gallery " >WimLemmensArt.Com</a>
Table of Contents
About Me, Wim Lemmens Abstract Art
About me, I received my education in the Netherlands at the St. Joost Academy in Breda specialized in painting art and monumental design.


My Abstract art Paintings, When am i satisfied?
The most common question people ask is when my abstract art paintings are actually completed. And you know what? They never are finished!


Modern Abstract Art And The Rock Guitarist
This abstract painting is actually the result of my love of the rock music. Modern abstract art can find its way into music. Stevie Ray Vaughan inspired me


Abstract Modern Art And Colorful Flowers
Abstract modern art and flowers are a popular theme. Take the oil painting below for example. I painted some beautiful tulips from my own back garden.


Abstract Fine Art And A Storm In The City
One of the first things you lose when a storm rages through the city is a clear view of your environment. Not a situation you would expect to be useful for something like abstract fine art


Colorful Abstract Art In The Disco
Do you think it is strange when you are looking for colorful abstract art in the disco? I hope not!


Contemporary Abstract Art And The Turkish Bride
Contemporary abstract art knows its way into different cultures. Abstract art is not limited to one believe or culture. I recognize beautiful subjects from people and cultures around me


Abstract Expressionism Art and the tambourine man
Abstract expressionism art is a great way to let yourself go. Experimenting with the rules you have learned at the academy. The tambourine man, which you see below, is an example of an attempt to distort reality.


The abstract art Gallery and its Sculptures become Your Expressions!
Imagine that my abstract art gallery is filled with square marble stones, together with granite and hard stone blocks. The stones have no purpose at this moment and there is nobody who cares about them.


Abstract art Galleries show My Work for You!
Viewing art in abstract art galleries is always fun to do. Actually you get a real opportunity to experience abstract art in its full dimensions.


Abstract Art Painting Of A Theater Filled With Music
This abstract art painting of a theater has a story of its own. A few years back I was asked by a friend to accompany him to the theater. Amateur musicians and students of a local school surprised us two with an amazing evening.


Abstract art Images through the Mirror
Abstract art images of the artist himself are popular themes. The images can be painted, very realistic or abstract. An artist often puts


What is abstract art without painting about your children
What is abstract art without painting about your children. Or should I say, educate your children with art. Believe me, not always an easy task. Not for the child, but for you as an adult.


Abstract animal Art and My visits to the Zoo
Abstract animal Art and the zoo go side by side. It is necessary for me to visit the zoo to find my inspiration when painting about animals.


My Fine Art Paintings start with a Sketch
Fine art paintings start with a sketch on paper. This is actually something many people do not realize. Before a stroke of paint touches the canvas, several sketches are made.